Photo of Ch Anluan Gunna Add Spice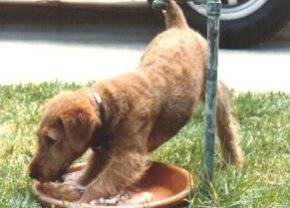 Ch Comeragh Brass Abandon
(My first Irish Terrier)
Being an Irish Terrier breeder and exhibitor has been part of my life from the early 1980's after I found a book on Irish Terriers in a resale shop, I have been in love with the breed ever since. I adopted my first Irish Terrier, Clancy, in 1984. Even though he was a handful, I was talked into showing him. Clancy had a few good wins; and the rest, as they say, is history... he became Ch Comeragh Brass Abandon. Clancy was a great companion right to the end, and he was one tough dog.
The next few Irish Terriers I owned were much better mannered. One of them, Ch Coolaney Copper Glow, was my foundation bitch. Copper was a good little show dog and a super producer in both quality and numbers (her biggest litter was 12). She really established my kennel 'Anluan'. Anluan, pronounced Anlorn, means 'Great Champion'.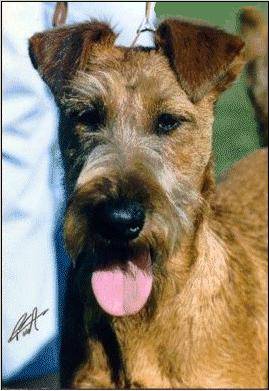 Ch Coolaney Copper Glow
Anluan Kennels' foundation bitch
I will always hold a special place for her in my heart.
In September 2005 a long term dream of mine came to fruition with the importation of a beautiful young dog from Kennel v Koudenhoven in The Netherlands. Ned's Pride v Koudenhoven ('Hoogie') is everything that a true Irish Terrier enthusiast could ask for. He exudes breed type, is very sound in body and mind and, most importantly, has the most fantastic character. Hoogie has since passed away but we have many of his Great grand children and have stored his semen for future litters. He has passed on his strong temperament and loving character. This dog was an extra special dog.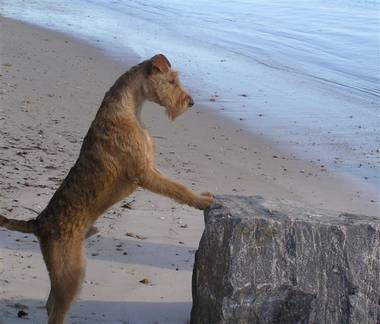 Photo of Hoogie, May 2006, at Port Denison in Western Australia, looking across the Indian Ocean .
Click here for more details on Hoogie.
I hope you enjoy looking around my website. Please feel free to contact me or to sign my guest book.

499419 Visitors