About Us
Father and Son with a new 'friend'
Ch Coolaney Top Class and Ch Anluan Pistol Pakn Paddy
('Teddy') ('Paddy')
Irish Terriers are an important part of my life. They are a wonderful breed that has a great sense of humour and make fantastic family companions. Whilst I breed for good breed type, I recognise that most of my puppies will be placed in homes as a part of some lucky family. This makes breeding for health and temperament my number one priority.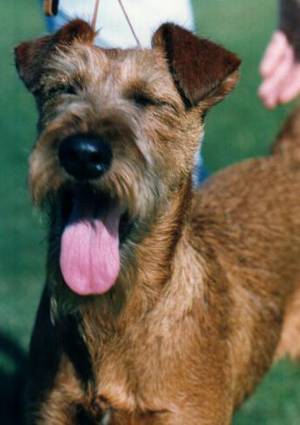 Ch Coolaney Copper Glow - had a great sense of humour
The Irish Terrier is lucky not to have suffered the consequences of over popularity, this means that they have mostly been produced by caring, knowledgable breeders who have the interest of the breed at heart. This being the case, Irish Terriers do not suffer from major hereditary diseases, this is not to say that health problems cannot occur, it is less likely with careful breeding and planning. There have been cases of corny feet recorded in the Irish Terrier; but, to my knowledge, this has not been seen in Australia since early 1970.
What can this kennel offer you?
A nice healthy Puppy: Coming from a combination of Australian, English and American genes. I have always tried to blend and weave the gene pool that is available in this country. Whilst there is only a handful of breeders in Australia we are lucky that we have a fairly diverse gene pool and happily work together to produce sound healthy Irish Terriers.

Older dogs sometimes available: Occasionally we can offer adult Irish Terriers to selected homes. Please make enquiries regarding this, there may be a long waiting time though.

Can Ship Australia wide: We can arrange shipping to most airports within Australia. Overseas shipping can be arranged to approved homes but conditions apply.

After sales service beyond compare: I am able to provide you with advice on raising your Irish Terrier or re-educating an adult. I have years of experience and am happy to share this with you.

Grooming: Time does not alway work with me. While I enjoy trimming broken coated terriers I just don't have the time to work on other peoples dogs. I can recommend a couple of good trimmers who know how to get a proper trim on your dog.
Rescue service: I guarantee that if you can no longer keep an Irish Terrier that you purchased from us, we will will assist you in finding it another home.

Stud service: My stud dogs are available to approved bitches. I can offer frozen and chilled semen, shipped to all parts of the World. I can also care for bitches in season if they need to travel here, I have a modern kennel facility with fully fenced exercise yards.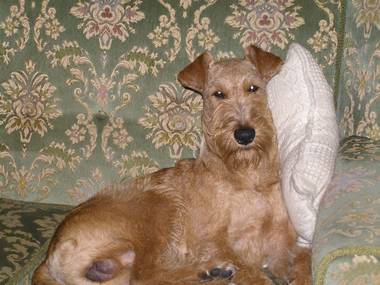 Hoogie hard at work!
Kennel Dogs -vs- House Dogs
Much has been written on this subject but mostly on European websites where it seems to be more of an issue. The reality is that if we, as breeders, want to produce quality puppies we need to have several dogs in our care. Some of us place breeding stock into homes where people are prepared to give us access for stud or puppy duties but reliable homes with willing owners are not always readily available.
This takes us back to what we as breeders can effectively manage. Firstly, the climate in most parts of Australia makes it possible to keep dogs in well built and well designed kennels year round. The benefits of housing dogs in kennels include:
Constant contact and communication with other dogs

There is a hive of activity in kennels, something is going on all the time

The dogs are safe, they cannot get hurt in the garden or escape

They have a place that they 'own' - like a den in the wild. This makes them feel secure

Caring kennel owners will give their dogs access to heaps of excercise (either on or off lead) and play time with other dogs

There is usually a regime of feeding, cleaning, keeping worms and parasites at bay

Most kennels in Australia are subject to local government by-laws so must meet a minimum standard

Most kennels in Australia are subject to regular inspection by the local government.
Dogs kept in the house experience other things like:
Exposure to domestic noises like TV's, washing machines, people, kitchen sounds etc

More contact with humans
In my experience dogs are equally happy in both home and kennel environments. I have house dogs but they go into the kennels during the day if I am not around. Having dogs in kennels does not show or indicate a lack of love for your dogs, on the contrary it provides greater protection and care. Making it a happy environment is up to the owner who should provide adequate care and entertainment, just as they should for house dogs.
When deciding on who to buy your puppy from it is important to feel comfortable about the care and love given to the stock owned by the breeder. Dogs can be ignored both in the house and in the kennel, generally I have observed that good breeders attend to their dogs needs much more quickly than the average dog owner. If you have any doubts then shop around until you feel happy.
All of our dogs are fed on the Advance range of products. It has proved to be a highly effective way to meet the nutritional needs of a variety of dogs in our care. From first feeds to last days, there is a product that will meet your dogs needs.