Tonic in Latvia
Tonic's first Christmas in Latvia, he is pictured with his best friend.
Some time ago I was contacted by fellow Irish Terrier devotee Ksenija Sizova enquiring if I would be willing to send her a puppy. Ksenija is located in the beautiful city of Riga, Latvia. It is not easy exporting puppies but if we as breeders never did it then the breed would be in a terrible state. It is only by sharing our blood lines that we can ensure the ongoing integrity and soundness of our beautiful breed. I am honoured that Ksenija chose a puppy from us and that an Anluan dog is in such good and caring hands. I wish her many wins and years of fun with her new boy. Thank you very much Ksenija.

On the 23rd of January 2008 a litter of puppies was born, 8 boys and 1 girl. This was good as Ksenija was wanting a boy. Many emails, photos and videos exchanged and finally Ksenija decided on Anluan Prince of Thieves - TONIC!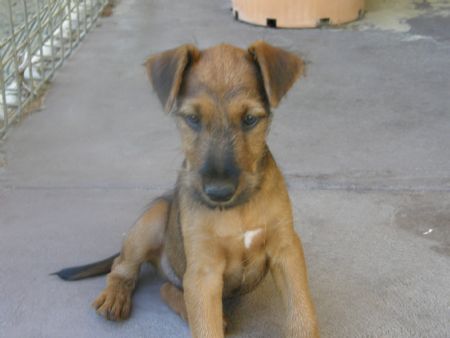 Pictured at 9 weeks
As Tonic could not leave Australia until 4 months of age he was entered in one dog show in Australia, he won Best Baby in Group aged 3.5 months.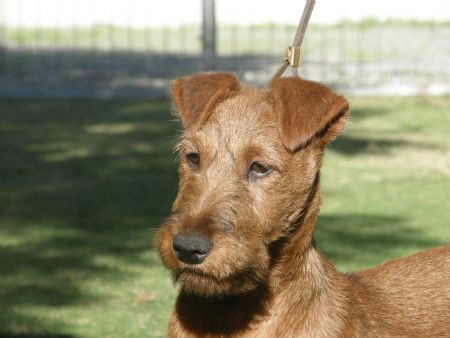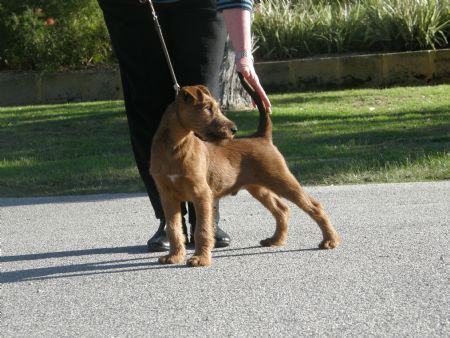 Above photos taken at 3.5 months of age in Australia.
Tonic finally arrived in the beautiful city of Riga to start his new life with his owner Ksenija, she sent me the following photos within a couple of weeks of him arriving, they are on the banks of the river in front of Riga city.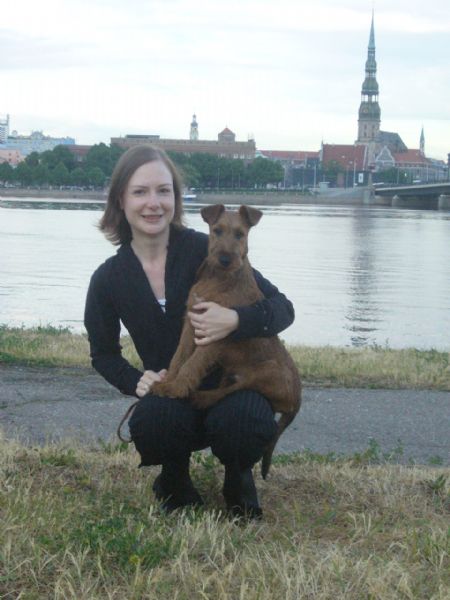 Tonic attended his first two dog shows since arriving in Latvia in the last weekend in July 2008. He won 4th Best Puppy in Show at his first show and 2nd Best Puppy in Show at the second show.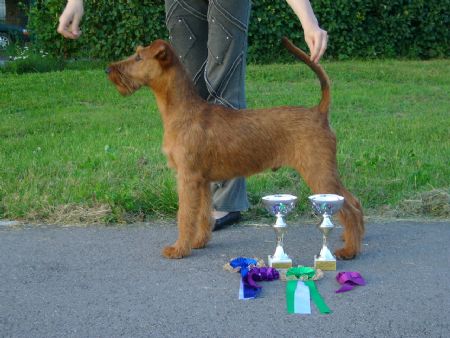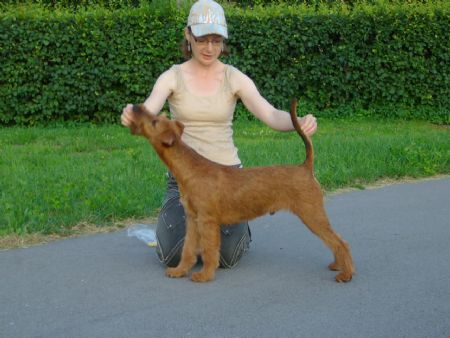 At 6 months of age he is showing a great deal of promise and is already acting like a seasoned show dog.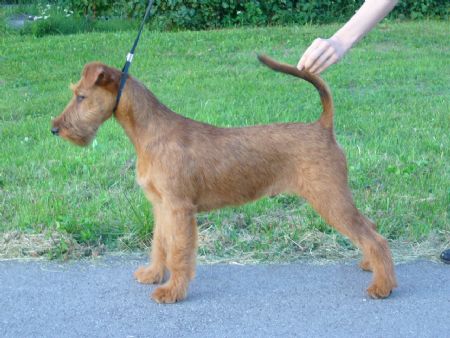 Tonic attended his 3rd dog show on the 2nd August to win BEST PUPPY IN SHOW (All Breeds)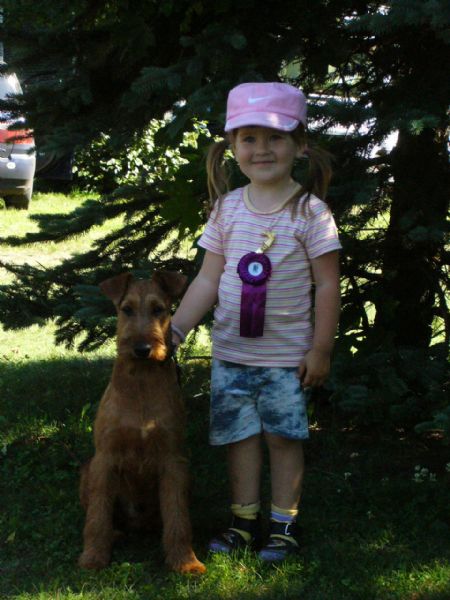 Tonic with his friend and up and coming handler
Relaxing on the beach after a hard day showing!
October 2008
On October 25th Tonic attended a show in Estonia, his first showing in the Junior Dog class. Tonic was awarded Best of Breed and also 3rd Best Junior in show out of an all breeds junior entry of 52. The judge from Poland comments: 'Full of fire, proportional, excellent balance and red coat'. A very accurate description of Tonic!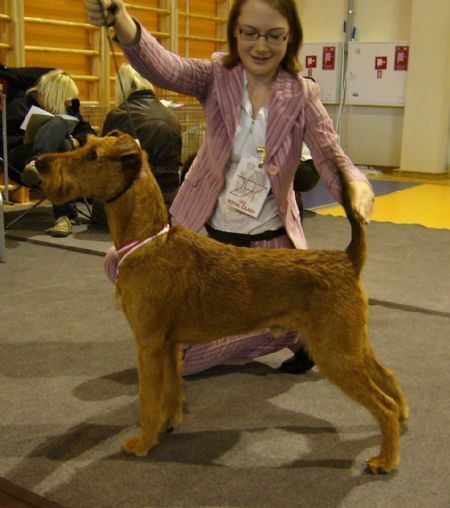 This photo was taken early October 2008. Tonic is wearing his best puppy in breed medal.
December 2008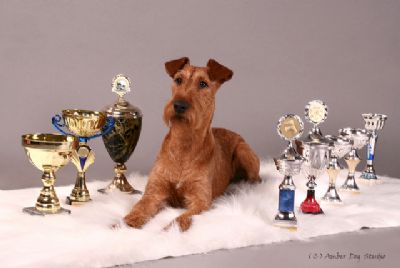 As the year 2008 comes to an end Tonic poses with some of his well earned prizes. In December he was awaded BIG 2 as well as Best in Show Junior - 4. Certainly 2009 promises to be a very very good year for this young Irish Terrier. My heartfelt congratulations to Ksenija on her excellent preparation and handling of this promising young dog.
Tonic will be standing at public stud. For enquiries regarding Tonic please contact Ksenija by clicking here. You can visit Ksenija's website and keep up to date on Tonic by clicking on the following banner....